Gossip Girl actress Kelly Rutherford's custody battle has recently been taken to a whole new level. Rutherford recently appeared in front of a Federal Judge in Manhattan this past week, alleging that her children were illegally deported from the U.S. to live with her ex-husband in Europe.
Kelly Rutherford has sued the U.S. Government, including an Attorney General and the Secretary of the Department of Homeland Security. She claims that the ruling by a California Superior Court Judge stating her children should live in France was unlawful.
It appears that Rutherford's only option at this point is to remain hopeful. Her request for the government to intervene in her custody battle and allow her children to remain in the U.S., past her scheduled visiting time, was denied due to the fact that Judge Andrew Carter did not have proper jurisdiction to step in and overrule a California Judge (who originally made the decision in their 2012 custody case).
"I went bankrupt fighting to keep my own children in my own country as a U.S. Citizen. My own country won't protect the rights of my own children." –Rutherford furiously states.
In 2012, Giersch, Rutherford's ex-husband and the father of her children, was awarded custody after his U.S. visa was revoked and denied re-entry to the U.S. based on fraud in obtaining it. Since then, Kelly has spent hundreds of thousands of dollars in traveling to Europe to pick up and drop off her children, not to mention her escalating legal fees.
There is good news and bad news for Rutherford:
The bad news is that despite Ms. Rutherford's appeal to a federal judge in Manhattan, requesting that he grant her a "Temporary Emergency Authority" to allow her to keep her children in the U.S., the Judge responded that he was not able to overrule the California judge who ruled in the 2013 custody case. If Rutherford does not return her children to France on August 19 at the conclusion of her visit, she could be faced with kidnapping charges.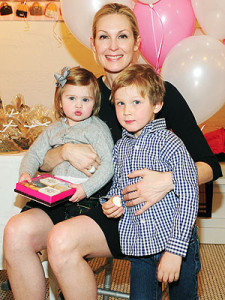 The good news is that Judge Carter shed some light to the situation. Although he could not grant her Temporary Emergency Authority, he has set up a conference call amongst Rutherford, Giersch, and their lawyers to strategize a way for Giesrch to come back and live in the U.S.
Just when you think things couldn't be worse in your custody dispute, driving a few unwanted towns over, or compromising a weekend change here and there all of a sudden doesn't seem too bad. Removing a child from the Commonwealth is a very complex process and unique to each individual's situation. It is best to consult with an experienced attorney if you have any questions or concerns regarding the laws of child-removal in Massachusetts.
-Libby Mouradjian